Express your feelings – Say It With A Song!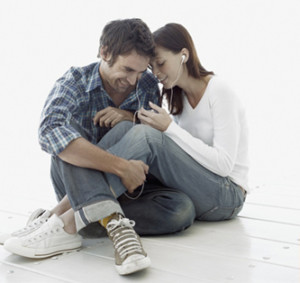 Ever been in a situation where you just couldn't think of the right words to say? You wanted to tell someone how you felt but you just couldn't find the right words. Do you find it difficult to express your feelings to your partner?  If so, I have a great tip for you that has worked for me over the years.  My tip is simply this: Say It With A Song!
Why wrack your brain trying to find the right words and the best way to say things?  Let others do the hard work for you? Song writers spend hours trying to formulate lyrics to express their feelings. Let them do the hard work for you and use their lyrics to express your feelings.  In addition, the fact that it's put to music will make it even more effective. There's nothing better than a good love song with great lyrics to touch the heart of your partner.
There are benefits to this approach.
The first benefit when you Say it with a Song: A Clear Message
Using this tip you can effectively express your feelings without you messing it up. You can imagine how devastating it can be to have all the things you want to say in your head.  You may have rehearsed them over and over again.  Then at that important moment and you fall flat on your face. The nervousness gets the best of you. Maybe you just go blank mentally. Or maybe for fear of failure you just talk yourself out of it.  Whatever the reason you miss that perfect opportunity. Wouldn't it be so much easier to say "Hey, I have a song I want you to listen to"?   Then as you play the song you look into their eyes and smile.  No need to say anything knowing they are getting the message.
The second benefit when you Say it with a Song: Repeatability
Your partner can play the song as many times as they like and get the same message each time.  Remember, the more they hear it, the more they will believe it.  Then later on when they hear the song again, guess who they will be thinking of? You! This is even more effective in relationships where you don't get to see each other very often. The song can be the glue that holds your relationship together until see are with them again. In this case you can simple text them the Youtube link to the song and let them play it as often as they want. It is so easy now to google Youtube for lyrics that express anything you want to say. And the fun is finding a variety of genres that all have the same message and sharing them with your partner.
The third benefit of Say it with a Song: Collectability
You can make a collection of songs that will reflect the progress of your relationship and allow you to travel down memory lane. You can make a playlist of songs that are sentimental between you and your partner and play the songs when you are together and even dance to them to bring you into a closer relationship. The playlist can also be used to express your feelings and set the mood for a time of closeness, intimacy and love.   One of the most touching moments I recall is when I was with my partner and I remembered the lyrics of a song and began to recite them and immediately my partner joined in and we said the words to each other.  I really felt the connection and that let me know that not only did my partner listen to the song but also took the time to memorize the lyrics.
So if you struggle with saying the right things at the right time and expressing your feelings, I highly recommend that you Say it with a Song and reap the benefits in your relationship. This is one of the best love tips I have shared with my friends and they have all agreed that it works wonders in solidifying a relationship and keeping the love fire kindled.
Hope it helps,
Comments
comments